Local businesses & their contact information:
Gagne & Sons - 207-495-3313

Sells septic tank covers and parts

Gerald Smith

- 207-557-1106

Kempton Tobey & Sons

- 207-993-2371

Earthwork contractor specializing in house sites, septic systems, roads

Kibbin Plumbing & Heating

- 207-680-0658

Plumbing and heating systems

W.D. Chadwick Construction

- 207-445-3500

Excavating and complete system installations
Top View and Cross Section of a
Septic Tank System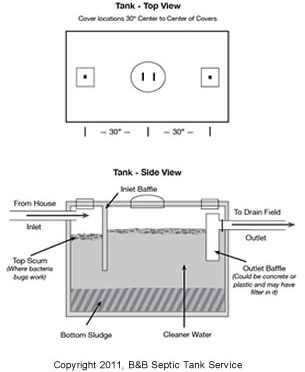 Click on image to access a PDF of the drawing.

If you cannot read this PDF file, you can download Adobe Reader a free reading tool developed to view, print and manage PDFs.
24 HOUR
EMERGENCY SERVICE